Tonight at 7: A trio hit with Larry Grenadier and Nasheet Waits streaming from WBGO at Yamaha Studios. It was a pleasure to meet Sheila Anderson, who writes more about the event here.
---
Some nice press coming in. I'm on the cover of the major Italian magazine Musica Jazz. "I love genres" — certainly true.
Ivan Hewett in the Daily Telegraph: "Charming and cheerful, the jazz pianist's new album is nevertheless full of surprises"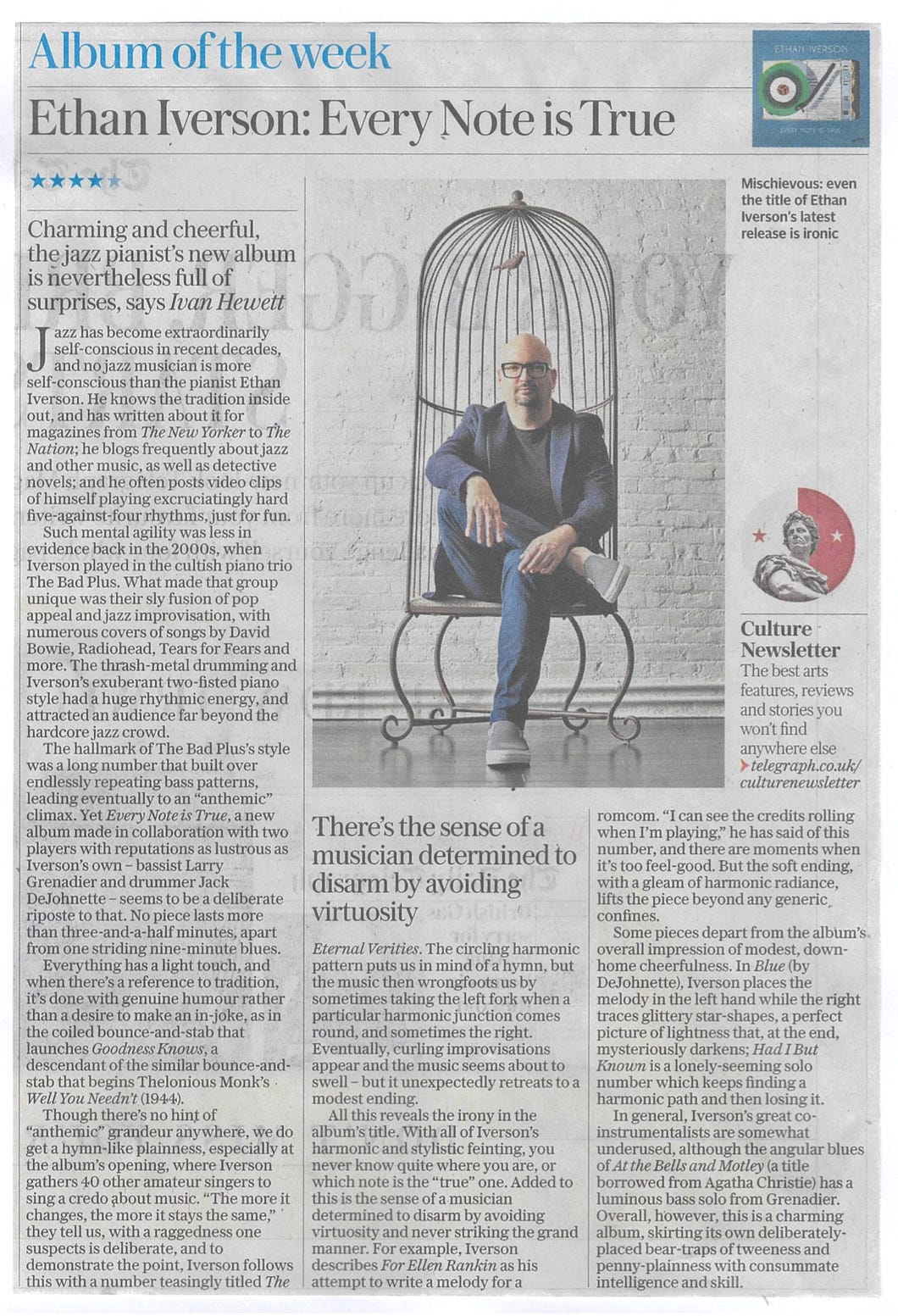 Nate Chinen: "Every Note Is True, the new Blue Note debut by Ethan Iverson, rings with a sense of at-homeness — not home itself, per se, but a mix of fondness, familiarity and assurance." (Happy Valentine's Day!)
Giovanni Russonello in NY Times: "Bacharach meets Brahms meets John Lewis" — I feel seen!
Christian Carey at Sequenza 21: "An auspicious label debut that demonstrates the imagination, breadth, and wit of Iverson's playing while maintaining a spirit of enthusiastic collaboration. Highly recommended."
John Garratt at Spectrum Culture: "His tendency to view jazz through a classical or rock lens does nothing to dilute its power."
Tim Niland: "Pianist Ethan Iverson creates an engaging and accessible album in his debut for Blue Note Records"
Interview with Craig Byrd for Cultural Attaché.
---
Thanks to all for listening and reading. Positive reviews at Amazon make the world go 'round.