In Prospect Lefferts there is a very cool venue called The Owl Music Parlor. On Sunday (March 12) I'll be playing two sets with Thomas Morgan and Eric McPherson. Dancer Reggie Parker (who was a smash hit at my birthday concerts) will guest on two tunes a set, probably "Now's The Time," "Along Came Betty," "Stompin' At The Savoy," and "Three Little Words." I first saw Reggie dance with Barry Harris and he's the real deal. Of course, Thomas and Eric are both fantastic.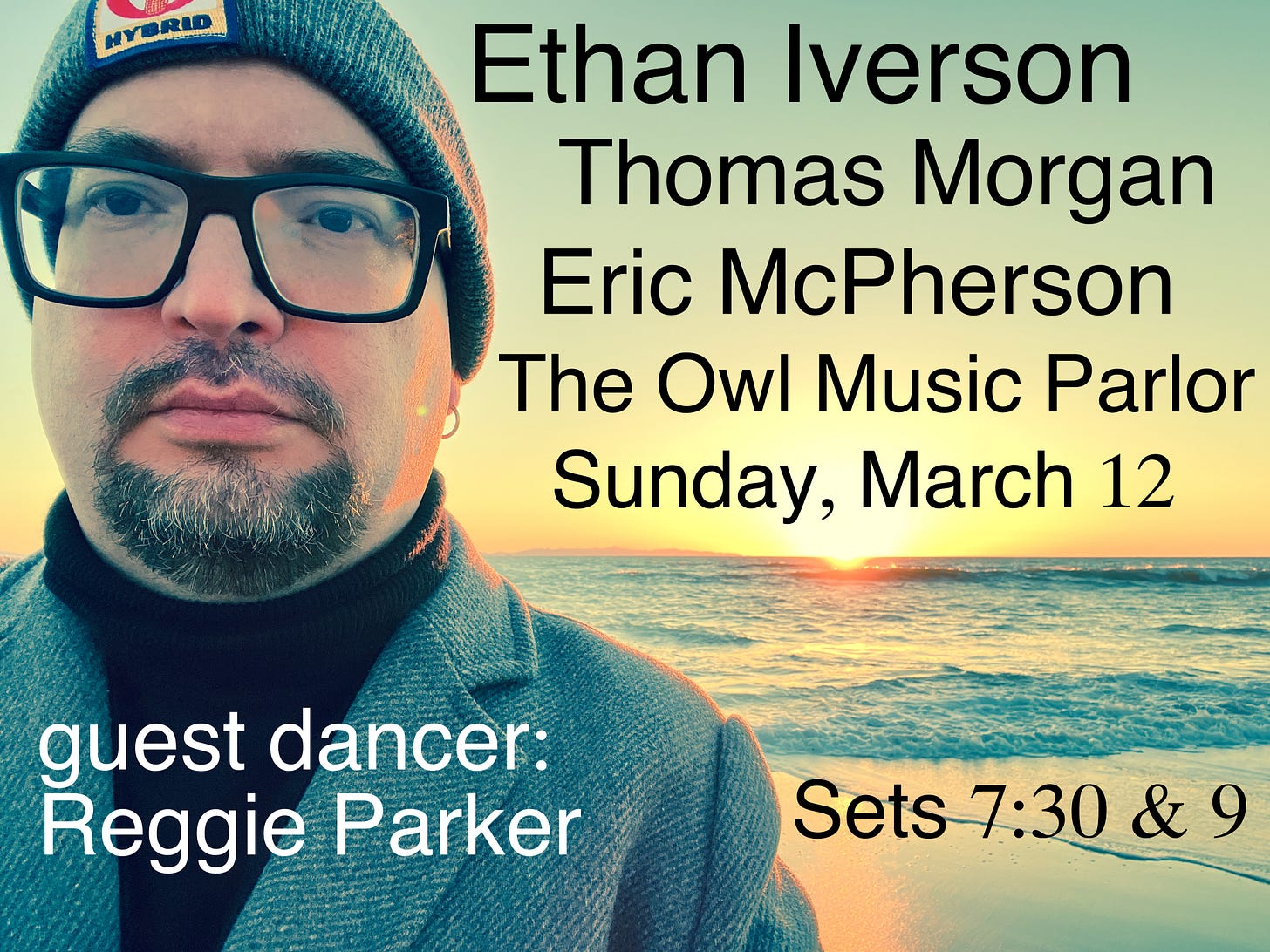 ---
For my NEC students, I quickly wrote out a basic harmonization of Harry Warren's "There Will Be Another You." After hearing it all day in the classroom, I edited it slightly (that comment is for those eagle-eyed souls who saw the morning version on Instagram).
Like everyone else, I've played this ditty a zillion times at sessions, always as a medium-up bop kind of thing. Among the famous recordings in that mode are Sonny Rollins, Woody Shaw with Kenny Garrett and Kenny Barron, and Hampton Hawes with Barney Kessel.
My casual harmonization is for a ballad tempo, thinking of the slower vocal versions by Nat Cole and others.
---
One of my students is now learning piano after playing good horn, and reading my chart was a bit of stretch until I told them, "You already know the tune." Then it went much faster.
That's the advice I always give about learning to sight-read. Find a fakebook with hundreds of songs, and play through the melodies that you know. For those that are better reading the treble clef than the bass clef, the bass-clef Real Book can be helpful.
---
Reminder: Most of my steady output is now at Transitional Technology. Many things are not being x-posted here to DTM; recently that includes things on Wayne Shorter, Carlos Garnett, Friedrich Cerha, and a substantial quasi-rebuttal to a NY Times article on jazz piano. Sign-up to TT is free. Thanks for listening, thanks for reading.