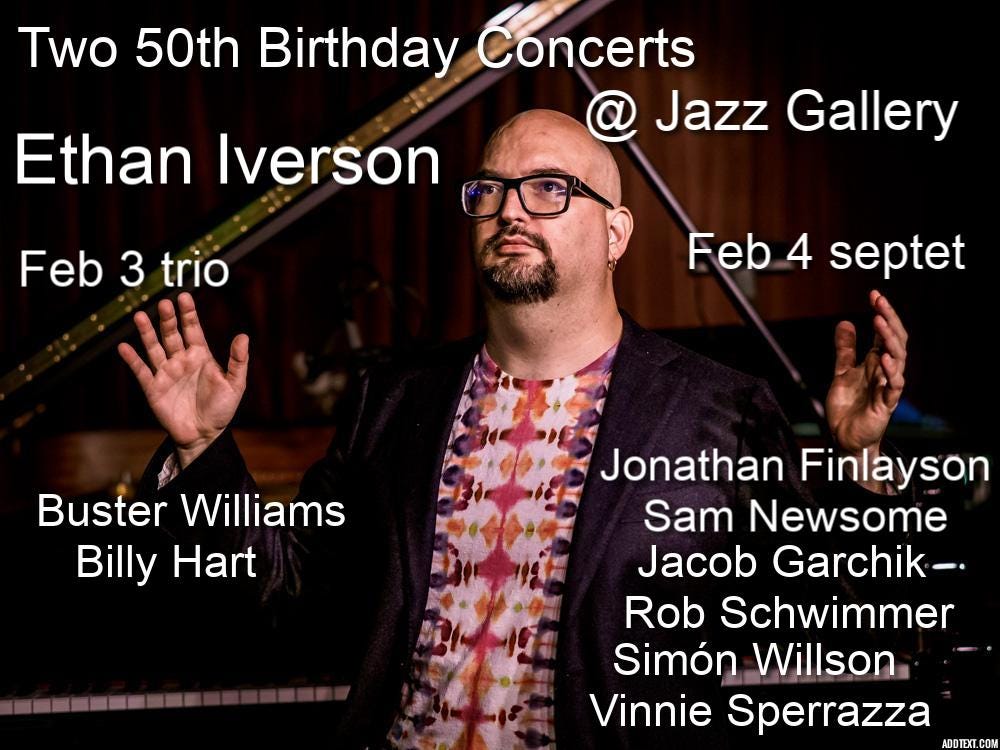 A nice surprise awaited me the other morning when finishing up the latest Bernie book by Lawrence Block, The Burglar Who Met Fredric Brown. Good grief, I think I attained nirvana for a few moments there. Thanks Larry!
I was already enamored of the book, for Block has such a good time with the fantastical conceit of an alternative world. Bernie fans don't worry: It's a Bernie book through and through.
A picture I took of Lawrence Block and Ron Carter together is on my "Crimes of the Century" page.
---
On Monday Aaron Diehl and I hosted a Vinyl Listening Party at Jazz Gallery. Thanks to Dan Levy for sending along the set list.
Ethan Iverson: Stanley Turrentine "I Want a Little Girl" from Blue Hour
Elvin Jones "This Love of Mine" from Dear John C.
Aaron Diehl: Hank Jones and John Lewis "Stompin' at the Savoy" from An Evening with Two Grand Pianos
Modern Jazz Quartet "Lonely Woman" from Lonely Woman
EI: Hank Jones "Maple Leaf Rag" and "Bag of Rags" from This is Ragtime Now!
AD: Roland Hanna "Prelude No. 7 in a Minor (El Toro and the Geisha)" from Preludes
EI: Eubie Blake "Love Will Find a Way" and "Dicty's on 7th Avenue" from Volume 1 Featuring Ivan Harold Browning
AD: Lucky Thompson "Sun Out" from I Offer You
EI: Oliver Lake Gallery w. Geri Allen and Geri Allen The Printmakers (both discussed but didn't play)
Louis Jordan "Choo Choo Ch'Boogie" from The Best Of Louis Jordan
AD: Marta Sánchez "The Unconquered Vulnerable Areas" from SAAM (Spanish American Art Museum)
Both Aaron and I have heard a lot of music, but neither of us was too familiar with many of each other's choices. Very interesting set!
I started with two classic (but very different-sounding) Van Gelder items because that canon remains a good reason to have a turntable. Hank Jones's original composition "Bag of Rags" is totally awesome and totally unknown. Eubie Blake is back in the news. Amazingly enough, one of the people credited on the first release of EBM (Eubie Blake Music) is Hank O'Neal, and Mr. O'Neal was in the audience! I had two Geri Allen albums on hand because Allen is almost the patron saint of the Jazz Gallery, for a whole roster of poll-winning pianists who regularly play at the club are deeply influenced by Allen. The tremendous Lake LP is hard to find, I wish the Gramavision catalog would be reissued. I closed with some famous rhythm and blues by Louis Jordan.
Part of my commentary was simply about metadata. In the liner insert of The Printmakers (her first album), Allen thanks about 150 people, a worthy starting point for an Allen biographer. The reissue twofers of the '70s have unique info not found anywhere else, for example these Louis Jordan liner notes by Dave Dexter Jr., who knew Jordan personally and even penned the lyrics to one of the hits. Dexter's Wikipedia page is exceptional: Count Basie composed "Diggin' for Dex" as a tribute while hardcore Beatles fans curse his name.
Aaron's selection of wonderful John Lewis and Roland Hanna was only to be expected, for Aaron has curated programs featuring their work. However the Lucky Thompson album was a surprise, Thompson killing it on soprano sax with Cedar Walton killing it on Fender Rhodes. I gotta get that. Aaron is also conscious of community, and brought the lone new LP to the session, Marta Sánchez's latest award-winning disc.
That was an especially nice touch, for I had just seen Marta the previous night at the Vanguard as part of the David Murray Quartet with Luke Stewart and Kassa Overall.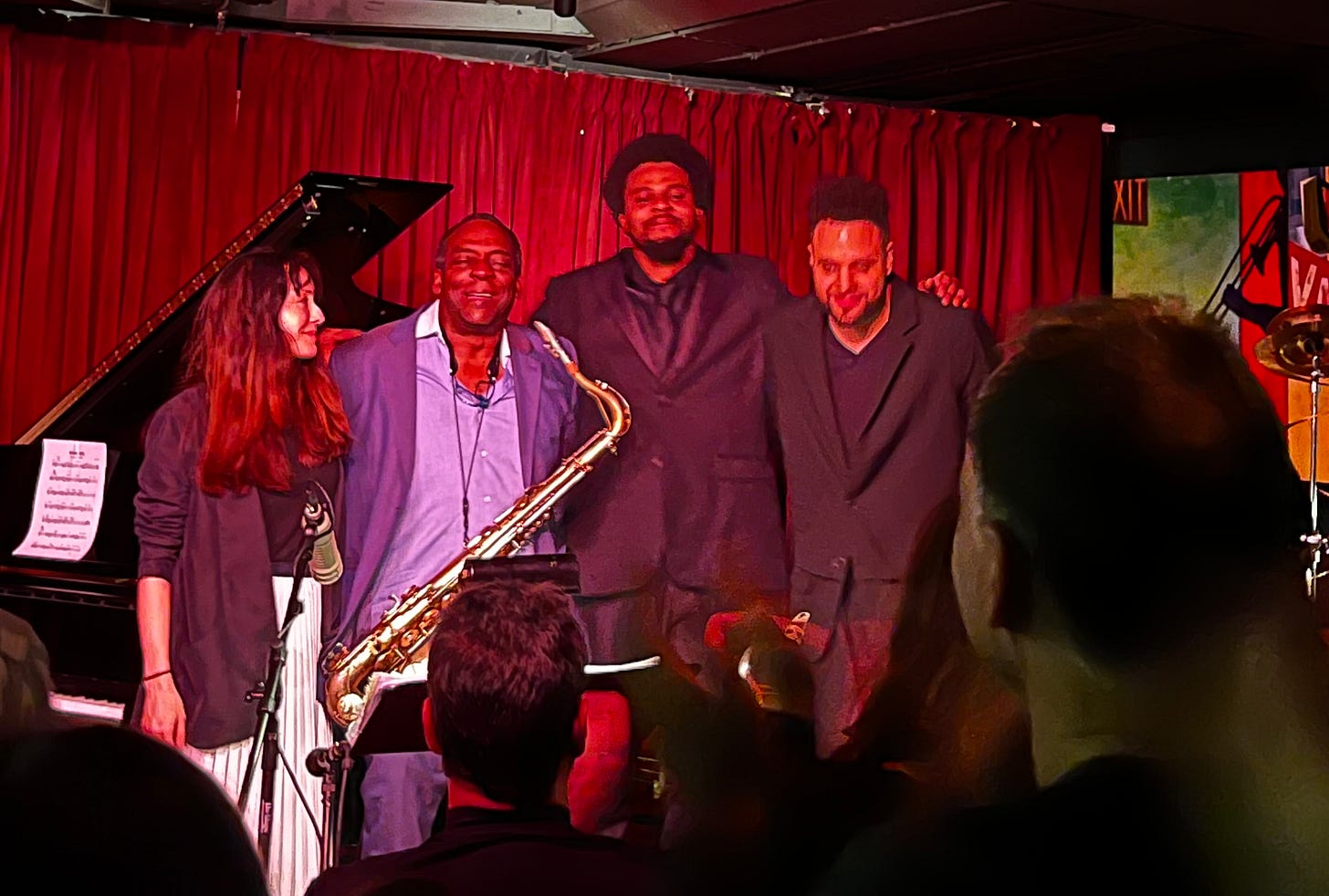 I really enjoyed the Murray set. It felt like a throwback to pre-Wynton '70s and '80s jazz, with lunatic blowing over sweet tunes. Timely and fresh. I hope this band becomes a steady item, for it felt like an organic unit and was a great showcase for all four members. 

I've known Marta as a friend for a long time (I've written liner notes to two of her albums) and it was a thrill to see her at the Vanguard— the first of many such occasions I am sure.
---
Kinda cool article at NPR about "swing." This kind of "unhip" approach to the matter will help orchestral players etc. Fresh sounds await.
The clickbait headline "At last, physicists unravel a jazz mystery" annoys cognoscenti but it's definitely going to come in handy when I'm standing in front of an orchestra. (Me, begging: "You gotta come in later. Don't be ahead, be behind. I'm serious! To prove it, scientists in Germany analyzed 450 records on a computer!")
Black music is also a science, although for decades they kept mum about how it worked, at least to the general public. Surely Elvin Jones or J Dilla or whoever could look at this topic from an intellectual or mathematical point of view.
Funny to think of J.S. Bach glaring at a modern species counterpoint book, grumbling under his breath, "Das ist völlig falsch! Es ist keine Mathematik! Du spürst es einfach!"
("This is totally wrong! It's not math! You just feel it!")
---
Tom Harrell told me Phil Woods said that Louis Armstrong was the first to play behind the beat on record. Neither Tom or I know if that's precisely true, but Woods's comment is certainly worth considering. Pops: The Father.
Both the Count Basie and Duke Ellington orchestras got more advanced at "laying back" over the decades. Ellington started earlier, and some of his first records are somewhat "ricky-tick." Later on Duke imitated Basie with the horns hanging behind the rhythm section. That shift is perhaps one reason we admire the "Blanton/Webster" band so much, for at that point the cats in New York had time to hear and digest the records of the Kansas City crew with Basie and Lester Young.
Steve Little drummed for Ellington in the '60s, and Steve told me Ellington said to him, "Don't let the horns drag you down!" The "rub" is important.
Later Basie, the "New Testament" stuff, has some of the widest beat around, especially live. Impossibly swinging. I was checking out Basie's 1966 session Live at the Sands (Before Frank) recently. Looking it up just now, I see that this album has some mediocre reviews. WHAT. Live at the Sands (Before Frank) is the goddamn truth! Lockjaw Davis on the opening "Splanky?" God almighty.
If the German physicists alert a few pairs of whitebread ears to the concept of laying back, then I'm all for the German physicists!