Birdland: Tonight through Saturday, two sets a night, the Billy Hart quartet with Mark Turner, Ben Street, and myself. Sets are at 7 and 9:30 tonight through Thursday, 8:30 and 10:30 on Friday-Saturday.
Just for fun, one of my better photos, of Mark and Billy somewhere in an ancient basement underneath a club in Sardinia, fall 2021: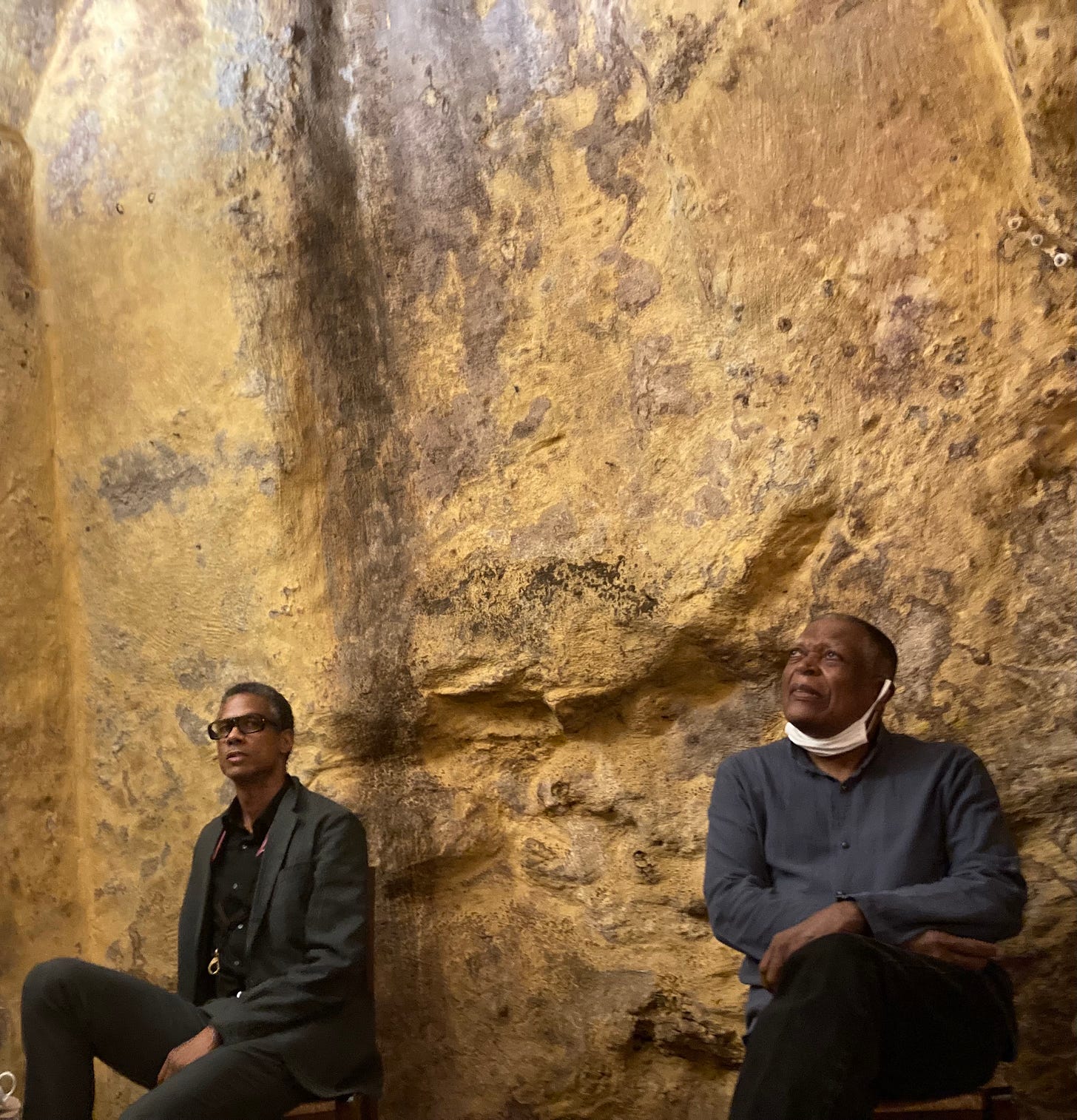 ---
On Monday, January 23, I'll be co-hosting a Vinyl Listening Party with Aaron Diehl at the Jazz Gallery. Aaron is a friend, but I also intensely admire his knowledge of the music. His recent "Before and After" in JazzTimes is simply wonderful in every way. My contribution as DJ will include platters featuring music by Eubie Blake, Hank Jones, Oliver Lake, Stanley Turrentine, Geri Allen, Elvin Jones, and Louis Jordan.
---
I'll be back at the Jazz Gallery on February 3 and 4. I'm turning 50 on February 11, and these gigs are my birthday celebration.
On Feb 3, I'll be playing trio with Buster Williams and Billy Hart. (In other words, this night is a present to myself.)
On Feb 4, I have put together a septet of the jazz cats who play with me on the road with Mark Morris in either Pepperland or The Look of Love: Jonathan Finlayson, Sam Newsome, Jacob Garchik, Rob Schwimmer, Simón Willson, and Vinnie Sperrazza. The two sets will proceed something like this: premiere of new "Prelude and Fugue" for piano, "'Round Midnight" with Rob on theremin, a hearty serving of Iverson themes arranged for this one-off septet, concluding with sensational dancer Reggie Parker starring in his Benny Golson ballet, "Along Came Betty."
---
January 27, 2023 Richmond, VA The Look of Love Modlin Center for the Arts
February 7, 2023 Santa Fe, NM Pepperland Performance Santa Fe
February 11, 2023 Manassas, VA Pepperland Hylton Presents Series
February 17-19, 2023 Berkeley, CA The Look of Love Cal Performances